When you visit us at Florence Christian Church we want you to feel comfortable and welcome.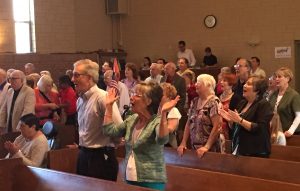 PARKING
Our parking lot is accessible from Main Street (Upper parking lot) and Highway 42 (Lower parking lot).  We are in the heart of Florence!  There are handicap spots in both lots by all entrances.  In the Upper Parking Lot, next to the Activity Center, we reserve spaces for first-time guests.  Please use these.  They are for you.
ENTERING THE BUILDING
There are two, main entrances into the church building and both provide easy access to the sanctuary.  If entering from the lower parking lot off of Highway 42, the sanctuary is up a set of stairs to your left or accessible by elevator, straight ahead through a set a doors and to the left.  If entering from the upper parking lot, near the Activity Center, the sanctuary is straight ahead, up a short flight of stairs, at the far end of the entrance hall.  The elevator is to the left of the sanctuary.  Before entering the sanctuary, a smiling person welcomes you to our church with a weekly bulletin.  Our bulletins have a "Communication Card" that we use to correspond with attendees.  We hope all people who attend our church will fill it out and drop it in the offering plate when it is passed in the service, or hand it to one of the friendly people you meet.
WORSHIP SERVICES
We have two Sunday morning worship services at 9:00 and 10:30 a.m.  Both services have common elements such as prayer, children's blessing and preaching, which are essentially the same for both services. Following the sermon, we take an offering and partake in Holy Communion.  We do not ask that our guests give for the expenses of our church but all are welcome to eat from Christ's Table.
In addition, there are some unique components to the two services:
The 9:00 a.m. service, "New Traditions Worship", celebrates our faith through singing beautiful, time-honored hymns and weekly communion served in the pews.  At the end of the service, we gather together in a circle of love as we are dismissed.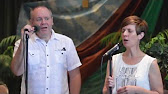 The 10:30 a.m. service, "Wired Worship", features contemporary Christian music, led by our outstanding FCC Praise Team.  Communion is celebrated each week by coming forward to receive the elements.
A nursery is available for our youngest children during worship.  Older children (ages 3-12 years) may worship through hands-on experiences called Children Worship & Wonder and Kid's Quest, or they may remain in the sanctuary to worship with their families.
The Well is a reception hall near the sanctuary.  Feel free to grab a cup of hot coffee and something sweet during our Fellowship Time at 10:00.
ADULT SUNDAY SCHOOL
Our Sunday school classes are at 9:00 and 10:30 and they are available for all ages.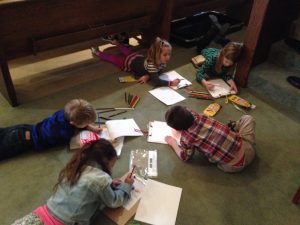 HOW WE DRESS
We have no dress code.  In our services you will find some people wearing jeans (including the minister) and some people wearing fine dresses and ties.  As we like to say, "Come as You Are!"