We have two Sunday morning worship services at 9:00 and 10:30 a.m.  Both services have common elements such as prayer, children's blessing and preaching, which are essentially the same for both services.  In addition, there are some unique components to the two services:
The 9:00 a.m. service, "New Traditions Worship", celebrates our faith through singing beautiful, time-honored hymns and weekly communion served in the pews.  At the end of the service, we gather together in a circle of love as we are dismissed.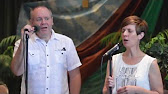 The 10:30 a.m. service, "Wired Worship", features contemporary Christian music, led by our outstanding FCC Praise Team.  Communion is celebrated each week by coming forward to receive the elements.
A nursery is available for our youngest children during worship.  Older children (ages 3-12 years) may worship through hands-on experiences called Children Worship and Wonder and Kids Quest, or they may remain in the sanctuary to worship with their families.