Are you called by God?
The answer is YES!
Often we think about calling as something that happens to other "special" people. Yet, God calls every one of us at all ages in multiple ways. God's callings are all around us, but we don't always see them. This fall, we will be taking a journey as a whole church to find God's callings all around us, connecting God's story with the stories we live every day.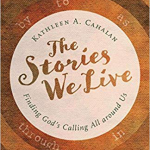 The book everyone will be reading: The Stories We Live: Finding God's Calling All around Us  by Kathleen A. Cahalan.  Cahalan rejuvenates and transforms vocation from a static concept to a living, dynamic reality of calling. Incorporating biblical texts, her own experience, and the personal stories of others, Cahalan discusses how each of us is called by God, to follow, as we are, from grief, for service, in suffering, through others, within God. Together we will discover a new vocabulary and find a fresh vision for God's calling in our lives.
Click here to purchase the book and/or join in the church-wide discussion.
Ways to engage:
Week 9  – 11/3/19
Adult Faith Groups
Sign up to receive daily devotions by email
Sign up to receive daily devotions by text
The Individual Digital Encounter will be available here each week beginning Monday, Sept. 9
The weekly family engagement handout for
The Stories We Live Youth Retreat