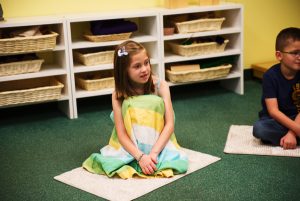 Young children know, love and worship God, but most of our sanctuary worship is structured and full of words and symbols based on stories and memories that our children do not yet have. So, here at Florence, we are dedicated to providing an opportunity for young children to encounter and worship God in a manner meaningful to them through Children Worship & Wonder. Influenced by Montessori ideas, it creates a welcoming environment for children to grow in their relationship with God through ritual, telling our sacred stories and providing ways for the children to develop their theological imagination.
Children Worship & Wonder takes place in our Children's Worship Center in the atrium. Children are invited to start worship with their families in the sanctuary. Following the Children's Blessing, they will be escorted to the Children's Worship Center. Parents are invited to reunite with their children, after the close of worship, outside the Children's Worship Center in the upper level of the atrium.
In the Children's Worship Center, children will enter into a sacred time and place where they can be with God, hear the stories of God, talk to God and listen to God.  The worship center is a structured environment in which the children can abide in God's love as experienced in Biblical stories, parables, and liturgical presentations, so that they may experience meaning and order in their lives and, as the body of Christ, live as Christ's ministers in the world.
Parents are welcomed and encouraged to attend a Children Worship & Wonder service so that they can know what their child is experiencing and how their child is worshiping God in this space.
Many children are ready to be in this worship experience around age 4. But, age alone is not the only determining factor. Some basic developmental markers are:
Your child needs to be potty-trained.
Your child needs to feel comfortable engaging in an environment with mixed ages of children and be able to be in a group setting.
Your child needs to be able to sit on a circle and be attentive for at least 10 minutes at a time.
Your child needs to be able to listen to and follow simple directions like "It is time to line up."
You can learn more about Children Worship & Wonder through this informational video!