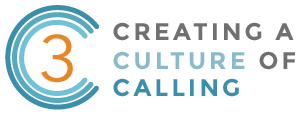 We have very exciting news to report!
Due to our work with Vibrant Faith, Florence Christian Church has been given an opportunity to participate in a very important grant offered by the Lilly Endowment, called "Creating a Culture of Calling" in congregations.  This four-year initiative will explore how we can promote a congregational culture of vocation (or call) that helps Christians of all ages to discover their calling and equips them to live their vocations in the church community, at home, and in the world.  We are one of 24 congregations in the US and the ONLY Disciples of Christ congregation that has received this invitation!
As participants, we have put together a "C3 Team" to design, evaluate, and coordinate our congregation's unique plan for:
Creating a congregational culture of calling infused into all aspects of church life.
Developing a lifelong approach to discovering and nurturing callings by creating formation programs designed around the development needs and life situations at each stage of life.
Nurturing calling with people of diverse religious practices and engagement from the active and engaged to the un-involved and unaffiliated.
What is so exciting about this opportunity is that it is the NEXT STEP for the journey God already has us on…as we seek to more fully live out or core values of welcoming radically, serving boldly and forming faith every day.  I believe God is giving us this opportunity that will help us to live into wholeness in our lives as well as draw others into this amazing faith community that celebrates the abundant welcome, love, grace and acceptance of our God!
During the four years of this initiative, members of our team will attend four 2-day convocations held at different locations with Vibrant Faith staff and other church teams across the nation for networking and learning.  All expenses of these convocations will be covered by the grant, as well as $12,000 awarded to the church, along with the services of a coach for the project.  The C3 Team will meet monthly along with a monthly meeting with our coach.  It's a big time commitment…but the potential for big results will make it incredibly worthwhile!
These are exciting times!  Please pray for our C3 team:  Rob Carroll, Shari Iden, Beth Silvers, Josh Crabtree, Nicole Kaufman, Kay Garnett, Pastor Diana and Pastor Susan, as they begin this important work, and for our congregation as we grow together!